Control4
Security Systems
Lighting Control
Climate Control
Remote Access

Control4 is our go-to for smart, reliable and easy-to-use smart-home automation systems. We have been installing and programming Control4 systems in the Denver and Phoenix areas for 12 years and counting with minimal problems and many happy clients. It is not the cheapest, or most expensive solution out there, which allows it to have the best value for the money. Add the reliability factor, and you've got yourself one great solution!
Several of our employees have had Control4 systems installed in their homes for over a decade with most of the same equipment! Technology does move quickly, and Control4 does a great job staying on top of the latest technology while still employing options to support older equipment through their constant updates. This means the solution you choose today will still work well for years to come!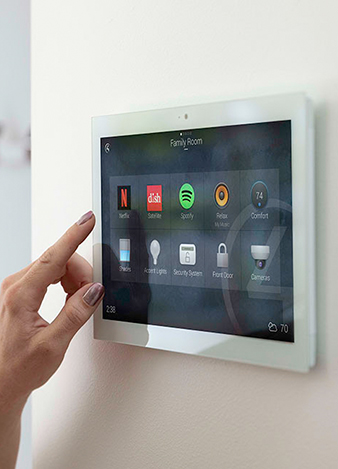 Click on the headers below to watch "How Do I..." videos featuring these great Control4 solutions.
Security System Installation and Monitoring
Protect your family or business with a custom security solution from Mile High Audio Video. Whether you need every door and window secured or just want a motorized door lock, we can provide the perfect solution for any situation. We can provide door and window security, smoke and CO2 detection, water leak detection, camera monitoring protection and specialized access control. All of this can even be monitored or controlled right from your smart-phone! We work closely with local monitoring stations to ensure that in case of an emergency, the appropriate response is dispatched quickly to keep your family and belongings as safe as possible.
Integrating a security system with a control system like Control4 can allow you to keep track of your entire home remotely and trigger responses from things like lighting when a door opens or the system is disarmed. An intelligent security system is a good thing to have, so give Mile High Audio Video a call for an in-home consultation.
Security System Services
Positive Attitudes
Trustworthy Staff
Security System Installation
Camera System Installation
Digital Camera Recording Systems
Automated and Motorized Door Locks
Access Control Systems
Home Integration
Remote Access
Remote Camera Monitoring
Retro-Fit Solutions
Wireless Solutions
Intercom Solutions
Quality Components
Professional Installation
Expert Service Staff
Custom Lighting Control Systems
Nothing adds a layer of sophisticated ambiance like a well programmed lighting control system. With a lighting control system, you can set mood scenes for the entire house or any particular room. Not only can this bring a room to life, it saves a lot of energy at the same time. By setting lights to only turn on 85%, you are saving lots of money on your lighting bill without your eyes ever noticing the difference. Occupancy sensors in each room can turn lights off when nobody is in the room, saving you even more money. Motorized and automated window treatments can be programmed to open and close at certain times of the day to eliminate sun damage or help sustain a comfortable room temperature.
When paired with a smart-home automation system, lighting control can turn lights on and off at certain times of the day or react to things like a door opening or a fire alarm. Of all the smart things you can do with a smart-home system, lighting and shade control is one of the most attractive and practical. If you like to save energy and want to add elegance to your home, call Mile High Audio Video for an in-home consultation. We even provide easy retro-fit and wireless solutions.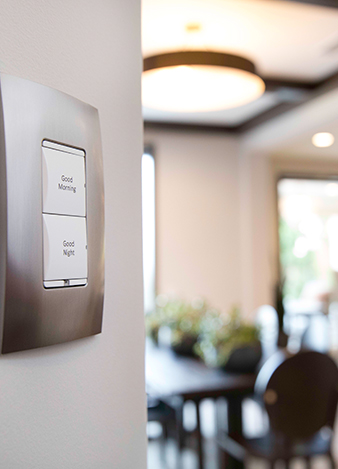 Lighting Control Services
Positive Attitudes
Lighting Control Installation
Lighting Control Programming
Energy Saving Technologies
Intelligent Lighting Scenes
Motorized Window Treatments
Automated Lighting and Shade Solutions
Home Integration
Remote Access
Retro-Fit Solutions
Wireless Solutions
Quality Components
Professional Installation
Expert Service Staff
Climate and Comfort Control Systems
Very few things can save as much energy as a well designed HVAC system. By placing temperature sensors in strategic locations and zoning the system for certain areas of the home, a climate control system can save money on your heating bill while keeping your entire home at a comfortable temperature. New smart-thermostats like the Nest Learning Thermostat will even learn your habits and automatically adjust as needed based on outside temperature, time of day, season and room occupancy. Some Nest customers have reported energy savings of $60 per month! Many of these systems now come with the ability to control your homes temperature and humidity from your smart-phone.
This allows you to set your home be the perfect temperature when you get home from work or vacation. Give Mile High Audio Video a call today to see how much energy you can save while keeping your climate perfectly balanced. It all starts with an in-home consultation.
Climate Control Services
Positive Attitudes
Smart Thermostats
Nest Learning Thermostats
Zoned HVAC System Control
Energy Saving Technologies
Intelligent System Scheduling
Fireplace Control Options
Automated Climate Control Solutions
Home Integration
Remote Access
Retro-Fit Solutions
Wireless Solutions
Quality Components
Professional Installation
Expert Service Staff
Smart-Home Remote Access
One of the best parts of having a smart-home system is the ability to control the different aspects of your home from anywhere with WiFi or 4G/LTE services.
Apps for your smart-phone, tablet or computer allow you to remotely set the temperature, view cameras, open or close the garage door, unlock doors and turn lights on and off. With a Control4 4sight subscription, you can even receive text messages or emails about your home when certain events are triggered. Stay informed and remotely access your home by calling Mile High Audio Video for an in-home consultation.
Remote Access Services
Positive Attitudes
Remote Lighting Control
Remote Climate Control
Remote Security Control
Remote Camera Viewing
Smart-Phone and Tablet Accessibility
Whole-Home Integration
Retro-Fit Solutions
Wireless Solutions
Quality Components
Professional Installation
Expert Service Staff